So I am totally neglecting my blog and I had good intentions on keeping up with it. One thing around here not being neglected would be Miss M.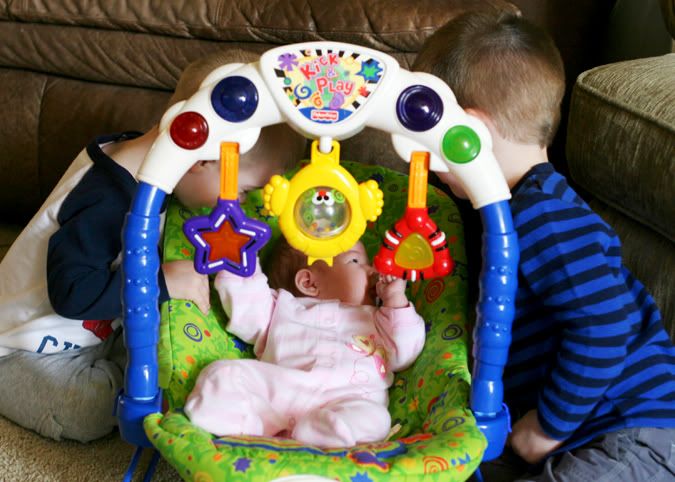 My little princess is 7 1/2 weeks. She will be 2 months next Monday. How can that be? She is such a good baby. I am spoiled. But I think that's only right, considering she is my fourth and I need a good, easy baby when you have four, right? She has started sleeping great. She goes 6-7 hours at night. I can definitely handle that. She is still sleeping most of the day. She's a tired girl trying to survive the loud, craziness of her brothers and sister. She also had her kidney scans last week. She did great. We found out that she has function with her left kidney but it is delayed. We will go tomorrow for ultrasounds to see how bad her hydronephrosis is. I have my hopes up that they will be able to correct the problem and she will have two good kidneys. I will continue to pray for that.
She is such a good baby who is rarely fussy. She is way congested at the moment and we went to the doctor today. He thinks due to the fact that she had RSV at such a young age that her lungs have some scarring. No worries he tells me, she will out grow it. But until then she will have some issues. So we are now on breathing treatments and antibiotics for the next 4 days to help her out. Hopefully, that will help clear her up.
She still hasn't fully givin us a full "look at you in the eyes and smile because you are making me smile" smile. I am patiently waiting for that moment. And by patiently I mean, I bug her every waking moment trying my darnedest to get that smile. Hopefully, I will be blogging pictures on that soon!