Today was my boy's first day of preschool. He has been so excited to go ever since his sister started up. It is only two days a week from 9 to 12. He didn't care one bit that we were leaving him didn't even really tell us bye. So two of my kids have not cared one bit that I have left them for school. I wonder if this should cause concern that they don't care. Oh well, I still got two more to go to show me that they love me and will miss me.:) Being home with only two little ones and Mia sleeping most of the time was a little weird and pleasantly quiet. Quiet when of course the Ipad wasn't giving Brock trouble. We have a little Ipad addict, but more on that later. So, after picking Ryder up from school he went on and on about what they did. Something about a school bus (they colored one), race tracks (painted more), and then a lady and a squash (I am guessing maybe a book they read?.) Anyway, he told me he loved it and can't wait to go again. He did have one suggestion. That they give him a drink. "You know a drink with a lid."
Well, he already has the goofy, forced smile down.
Apparently it was a little bright outside.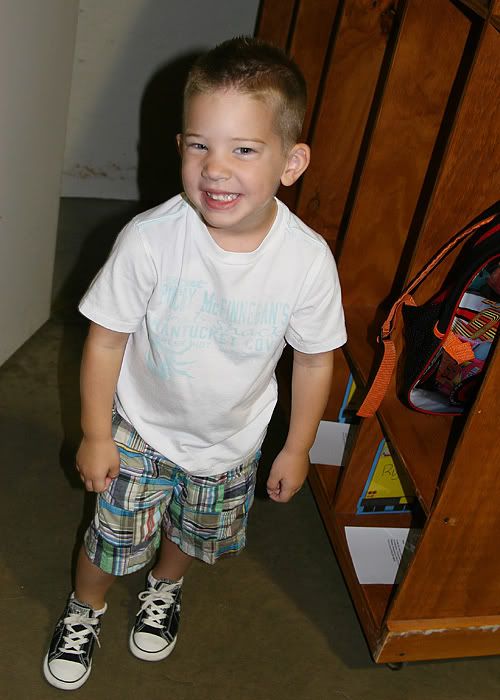 Didn't even give us a little look or wave goodbye. He was at school and his family was old news.